4G WiFi router black 4 antenna Model: LT210F Faiba 4g-Safaricom, Airtel , Telkom Universal 4G Router.
CPE 4G LTE WiFi Hotspot Router 2.4G 300Mbps 4 High Gain Antennas Band Wireless Router with sim card slot LT210F Faiba 4g-Safaricom, Airtel , Telkom Universal 4G Router.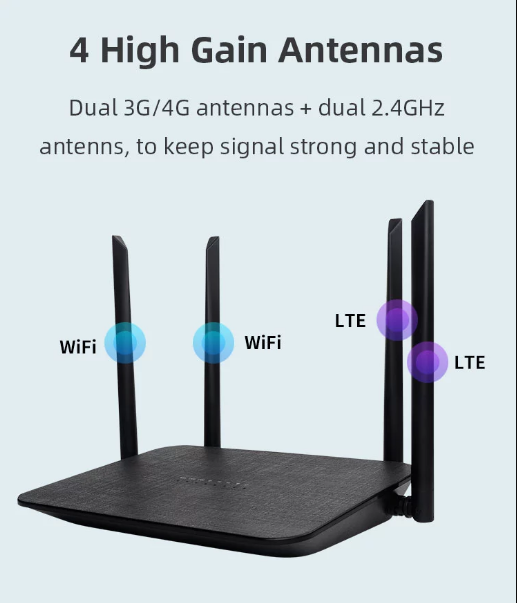 Tuoshi Customized 4G LTE CPE Wireless Router with SIM Card Slot 300Mbps Signal wifi Hotspot Router Up to 32 Users for Car Mobile.
Max. LAN Data Rate:-

300Mbps –

With Modem Function:

Yes
ndoor 4G wireless router LT210F
Multi-network port design can provide wired network for other devices.
The antenna can be rotated freely, and the multi-antenna receiving ability is good.
Insert a SIM card, transmit WiFi signal, and easily have a network.
Say goodbye to the annoyance that no internet is available, and the card can be accessed anytime and anywhere.
Support the maximum DL/UL rate of 150/50Mbps.
2*2 MIMO technology provides high-quality data communication and optimized WiFi data transmission.
Diversified WiFi standards and encryption modes ensure the safety and stability of products.
With a variety of working modes: 4G to WiFi, 4G to wired mode, rich network protocols and reliable connections, can be widely used in business and home.
With regular restart and firewall protection functions.
Built-in hardware watchdog, effectively prevent system crashes during operation.
Built-in dual firmware can automatically restore the system due to software upgrade failure or abnormal startup caused by the software.
FDD LTE: 700/900/1800/2100/2600
TDD LTE: 2600/2300/2500
WCDMA: 2100MHz Uplink frequency: 1920-1980MHz, Downlink 100 frequency: 2110-2170MH
WCDMA: 900MHz Uplink frequency: 880-915MHz, Downlink frequency: 925-960MHz
gsm: 900/1800mhz
Commodity specifications●
Network interface: LAN*2, WAN*1
SIM card slot: 2FF sim
Button: Reset
Power supply: input 12V/1A
Wireless power: 802.11b, 24dBm±2dBm; 802.11g, 16dBm±2dBm; 802.11n 15dBm±2dBm.
WiFi  wireless standard: 802.11b/g/n(2*2 11n features)
WiFi  encryption method: WPA/WPA2
OS/ operating system: Windows XP, Windows Vista, Windows 7, Windows 10, MAC, Linux
Qualcomm solution CAT4: ASR CAT4
Size: 29.0 × 32.0 × 2.4mm
Chip manufacturer: Qualcomm ASR
Model: MDM S
Information: CAT4        
Standards And Protocols:

Wi-Fi 802.11g, Wi-Fi 802.11b, Wi-Fi 802.11n, Wi-Fi 802.11ac